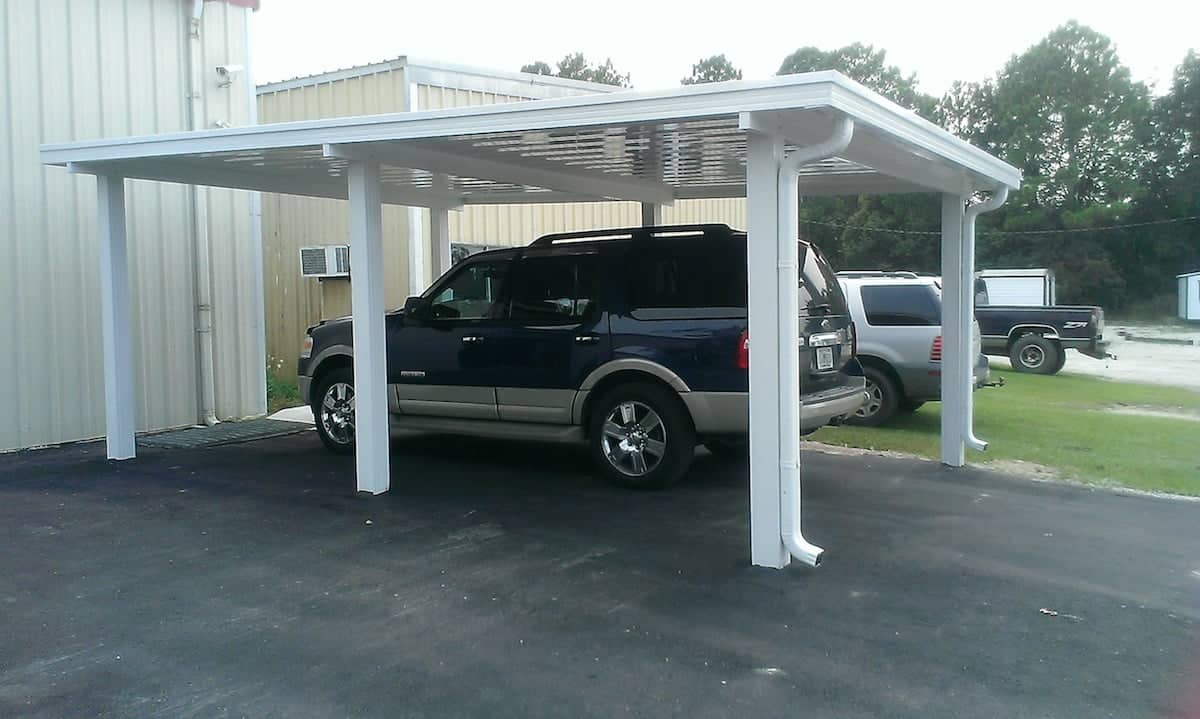 Looking for a convenient way to add some outdoor living space? Our aluminum structures offer versatile & affordable options to start enjoying more of your outdoor space, out of the elements.
Tool Time Buildings and Roofing did a whole new roof on my home and Florida room. They also put extensions on it, so now I have a place to park. I had an automobile accident and was in the hospital for a few days, so I wasn't even there to supervise. It was all done by the time I got home. It amazed me how well the crew worked.

Tool Time Building & Roofing has done a lot of work for me. Most recently, we wanted a pergola built near our pool to give us a place to rest and cool off. It gives us a nice shaded space and seating area. They did a fantastic job. I love the quality.

We needed a place to get away from the bugs and the heat. We also wanted a place where we could sit outside and enjoy the view. They built a large deck for us and made part of it a screened-in room. I knew a little bit about building, and they did a good job. It's a vacation home for us so the job was unsupervised. That made us somewhat worried, but when we went down and looked at it, everything was done to our satisfaction. The quality was excellent.

The craftsmanship they put into their work is incredible. They do what they say they are going to do, and they take a lot of pride in their work. They installed a 6-foot fence nice and straight and right where I wanted it. They take their time and put quality into their work.

We are very happy with the end product on our shed and very pleased with your workmen and their professionalism and work quality. We didn't realize that the shed would be so high, so we asked for a ramp and got it delivered one day early. We wanted to thank you ... Excellent work."

I went by the shop and sat down with them and told them what I wanted and what size it needed to be. They came out to the property and built me a screened-in 12' by 48' room at my camp that I use as a kitchen to cook my fish. My wife, children and grandchildren use it when we can get away and fish, which isn't nearly enough. We love it. It's perfect. It's exactly what I wanted. Winston Chester of Southport

The roof was leaking in a couple of spots, and last year they got worse. The storms were terrible that year. Tool Time gave us a really good price on a new roof and a good warranty. I was very pleased with their work. We had a storm come through with 50 mph winds a week after they put my new roof on, and afterward everything was intact. They did a really good job. I am passing their business card around to my friends. I wouldn't want to work with anybody else.

I was needing extra space and a place for my man cave, so they built a garage and carport combo. I've had four jobs done by Tool Time, and I've had nothing but positive experiences. They know what they are doing. I even had an issue that wasn't their fault, and they came out the next day and fixed it. I've got nothing but high praise for Tool Time.

They built me a 12 x 20 shed with a carport. I had some stuff I needed to store, and I have a boat and convertible. They did a fantastic job and worked together great. Having this built made life a lot better on me. It helps me save some things I want to keep now that I have room to store them.

I'm a retired florist, so my shed is my project room. We also needed a barn to store extra furniture, but we use it every day for our tractor, lawn mowers, golf cart and a boat. We hired Tool Time again to build a patio and a carport, too. Each time they walked us through the project so we felt well informed. You couldn't ask for a better crew.

My pole barn looks like part of the house. They lined it up with a stud wall and enclosed it with siding. They did a very clean job with sound and sturdy workmanship. They're coming back to build a garage and an additional bedroom and bathroom. I would recommend them to anyone.